Fall is in the air! The temperatures are dropping, the leaves are changing, and we are gearing up for Fall schedule packed with treats and a few cool tricks. With new classes in Giles, live music, guest instructors, and more, we have lots of fun stuff to "spice" up this exciting season. There's no better time to start dancing than right now as we head into to colder days. Plan to keep cabin fever at bay by burning up the dance floor this Fall!
Monster Bash
Dance Party
Saturday, October 11

1) October Group Classes in Blacksburg start this Tuesday and Wednesday, 10/7 & 10/8 (read more)
2) Monster Bash - Saturday, 10/11 (read more)
3) Old Man Kelly returns to Sapphire on Friday, 10/17 (read more)
4) Single Time Swing hits the ULW line-up - Monday, 10/27 (read more)
5) Tango Gypsies come to Sapphire in November (read more)
6) RSO Musical Roadshow Tea Dance - Sunday, November 2 (read more)
7) The Gift of Dance - never too naughty, always really nice! (read more)
8) Sapphire On The Town (read more)

1) October Group Classes in Blacksburg start this Tuesday and Wednesday, 10/7 & 10/8
We had a great start to the semester of classes in Blacksburg! We had an amazing turnout at our Fall Sampler, where lots of people found the perfect class to fit their goals as well as their schedule. If you missed it, not to worry! We'd love the chance to talk to you about which classes are right for you.
Starting in October we have the saucy Bachata, the peppy Single Time Swing, the graceful Fox Tort, the happy Merengue and the passionate American Tango. You can check out the details as well as what else we have to offer in November at http://www.sapphiredance.com/groupclasses.php.
Every session, the teachers at Sapphire feel lucky to be able to join forces with a new group of enthusiastic dancers. Being part of a group that is learning together, encouraging each other, and exploring new skills is so much fun. Take this chance to try out a group class, meet some new friends, and learn the joy of dancing - there's a space waiting for you to fill it. And don't worry if you don't have a partner - there's always plenty to go 'round!
2) Monster Bash - Saturday, 10/11
What's your costume going to be this year for Halloween? Something flirty and fun? Or creepy and cool?
Costumes are not required to come out and dance the night away with us at our Monster Bash Dance Party, but why let the trick or treaters have all the fun?
In addition to our regular "dancing chef" prize, where we award the person who brings the best snack by popular vote, we will also be having a costume contest and giving a prize to the winner.
Whatever you decide to dress up as, make sure you can still dance, swirl and twirl, in that costume because we will be keeping the spooks away with lots of fun music and happy dancing. We will kick the night off with an American Tango lesson at 7:30 where Debbi will show you how burn up the dance floor like Morticia and Gomez Adams: http://youtu.be/6vm4TYFzUH0.
3) Old Man Kelly returns to Sapphire on Friday, 10/17
We have been counting the days until we can kick up our heels again with Old Man Kelly & The Streetsweepers!
If you weren't here last time we hosted this incredibly fun band you can check out some video at http://www.oldmankelly.com/?page_id=72.
This lively bunch is not only entertaining but plays really great music for dancing. Our regularly scheduled "Cheaper-Than-A-Movie" workshop (7-8:30p) will feature a few dances that will be useful for the evening: Single Time Swing, Waltz, and a sneak peak of Rumba (Rumba at a honky tonk - why not?!).
Then, at 8:30, the band will let loose and the dancing fun will ensue! Check out this and other events at http://www.sapphiredance.com/events.php.
4) Single Time Swing hits the ULW line-up - Monday, 10/27
Do you feel like your swing just isn't as hip as it could could be? Do you need more jump in your jive? Check out this series of Upper Level Workshops starting with a Level 2-3 Single Time Swing. Single Time is sometimes called the little sister of East Coast Swing, but don't dismiss this guy too easily. It's got it's own style and flair, and does just about everything East Coast can, only faster!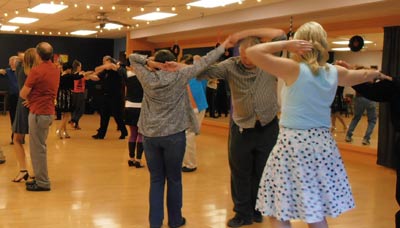 If you've never tried an Upper Level Workshop - this one is a great choice for your first time. As a Level 2-3, it's got approachable pre-requisites. And as a Swing, it's got to have lots of fun turns and tricks. Upper Level Workshops are all one-at-a-time commitments, so you can take one and then decide if you want more (which you will, because they're fun). Single Time swing will be on the Monday night schedule 5 times, including a Technique workshop, each getting a more challenging as we progress through the semester.
Take one or take them all, it's up to you, but don't miss this chance to add some zing to your swing because, you know, it don't mean a thing if YOU ain't got that swing! (Yes, I had to say it. It is just too true. :)
Check out our full line-up of Upper Level Workshops at http://sapphiredance.com/int-adv-wksp.php.
5) Tango Gypsies come to Sapphire in November
The Argentine Tango bug has been growing in this area, and now we're ready to make it explode! The improvisational nature, dynamic embrace, and rich culture behind the Tango keeps drawing more and more people in. Whether you're already hooked or just intrigued by the idea learning Argentine Tango - do we have a treat for you!
We are welcoming Karen Jaffe of Asheville, NC (www.TangoGypsies.com), to our studio the weekend of November 21, 22, & 22.
She will be teaching a "Path to Tango" class Friday, 11/21, from 7-9 for people who new to this dance as well as the enthusiasts who would like a review of the underlying elements that make Argentine Tango so great. On Saturday, from 11:00am - 2:30pm, she will teach a "Next Steps" class encouraging us to go further into the dance. You either need previous experience or have joined the "Path to Tango" for Saturday's class.
Saturday evening, we will also be hosting a Practilonga to give everyone the chance to dance and enjoy their new skills. Private lessons will be available on Sunday. Details will be available soon on our web page at SapphireDance.com.
6) RSO Musical Roadshow Tea Dance - Sunday, November 2
For the first time ever, the RSO Musical Roadshow has a stop at Sapphire Studio!
Thanks to the efforts of our students Mary, Mike and Candi, and several of their friends, the NRV Friends of the Roanoke Symphony Orchestra will be including a Tea Dance at Sapphire Ballroom as one of the six magical stops on their musical journey through the NRV.
Tea will be catered by the always fantastic Mockingbird Cafe & Bakery, right around the corner from Sapphire on Franklin Street. If you've never had the chance to sample their soups, sandwiches, and pastries, you have missed out on one of the real gems of Christiansburg.
Music and dance space will be provided by Sapphire. Dancing will be provided by YOU!
Don't miss out on this event - it happens the right at the beginning of November, which (gasp) is just a few weeks away. And with it being catered, I'm sure they need registrations early. So don't wait - register today! Registration form and more details (about the other "stops," too) are available in the Roadshow Passport at http://www.rso.com/about/pdf/Passport.pdf.
Funds raised by this event go towards supporting appearances of the Roanoke Symphony Orchestra and Roanoke Youth Symphony in the New River Valley.
7) The Gift of Dance - never too naughty, always really nice!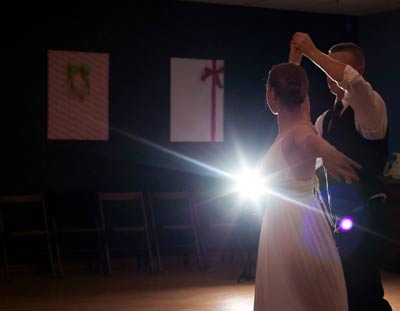 What is Mr. & Mrs. Santa Claus's favorite dance? The Silent Night Club 2-Step of course.
All jokes aside, what dance will your friends, co-workers, or loved ones like the best? Buy them the gift of dance and find out!
Dance can be the perfect gift for all sorts of people. We have gift packages of many different values that can be used toward many things like workshops, group classes, private lessons, or even a new pair of dance shoes. As you start working on gift ideas for this holiday season, be sure to consider a gift certificate from Sapphire -it's guaranteed to be the perfect fit! Check out the different options at http://www.sapphiredance.com/gifts.php .
8) Sapphire On The Town
We have been on the go lately! Here are some of the places we have been and some of the places you will be seeing us.
We are making the rounds this weekend (October 4 & 5).
Saturday we are making an appearance at Sinkland Farms at 11am. Dennis will be dazzling folks with a performance with student Rosie Higdon. He then will teach a mini lesson giving a people a taste of Swing.
Sunday, Lane and Liz representing Sapphire at Mountain Lake's Bridal Inspiration Event and Trunk Show from 11am to 3pm. If you are a bride or groom to be, you should come join us, http://www.mtnlakelodge.com/weddings-meetings.
Every Thursday evening this semester, you can find Sapphire on Virginia Tech's campus teaching and dancing with Ballroom Dance @ Virginia Tech. These weekly lessons are free to members, and all it takes is a membership fee of $25 a semester or $40 a year. PLUS, members get up to half off any of Sapphire's 4 week group class. Join their Facebook page at https://www.facebook.com/groups/310331795645267/
Dance Motion in Pearisburg has invited us out to teach workshops every 2nd Friday of the month. Liz kicked it off last month, getting the chance to start this new program bringing partner dance into the area. The next workshop is Friday, October 10, 6-7pm with Lane. Join us there on Wenonah Avenue in Pearisburg. It's $20 a couple or $12 for single. Call 540-599-0952 to register or get more details.
Last, but never least, we are back at the Salem Senior Center. You will find Linda, Liz, or Dennis there on most 1st, 2nd, and 4th Fridays, teaching a lesson and then hanging out and dancing during their open dance time. Come dance with this fun, welcoming group! More details available here.
30 W Main Street, Suite C, Christiansburg, VA 24073 - 540-382-8782
www.SapphireDance.com