Happy Independence Day to all our dancers out there!
We have lot's of fun things to keep you dancing through the summer… some sad news regarding our Performing Arts program… and lots of GOOD news with new teen programs, the Millers visiting this month, and a Dance Party to celebrate living in America!
Keep reading for more information….and as always, keep dancing!
Dates to remember:
Friday, July 3 - CTAM Beginner Workshop canceled for Independence Day
Monday, July 6 - Teen Dance Camp - Ballroom begins
Monday, July 6 - Carolina Shag Pivots begins
Tuesday & Wednesday, July 7 & 8 - Group Classes begin in Blacksburg
Saturday, July 11 - American Made Dance Party with Country Two-Step Lesson
Saturday-Sunday, July 18-19 - Sam and Denise Miller visit for a weekend of Workshops, Lessons, and Dancing
Monday, July 27 - Teen Dance Camp - Swing begins
Saturday, August 8 - Summer Sizzle Dance Party with Salsa Lesson
Tuesday & Wednesday, Aug 11 & 12 - Group Classes begin in Blacksburg
1 - Super Sweet Teen Dance Camps Swing and Sway through July
Calling all teenagers, 12 years old and up - We have TWO weeks of classes just for you!
Monday - Friday, July 6 - July 10, learn to glide and sway with the many popular Ballroom styles, possibly including Tango, Waltz, Viennese Waltz, and more.
Then, July 27 - 31, jump, jive, and wail with a dazzling variety of Swing styles.
In both camps, we will dance from 4:30-6:00pm Monday through Friday building skill and confidence while having a blast. Friday will be a DJ'ed dance party to encourage the "social" aspect of dancing with fun music and light snacks.
Find all the details at http://www.sapphiredance.com/TeenCamps.htm.
And please spread the word if you know of anyone in that might like to join in!
2 - Carolina Shag Pivots Class, begins Monday, July 6, 7:00pm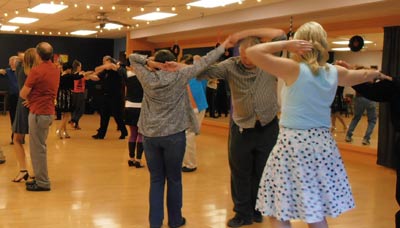 Pivots are a staple of Carolina Shag. Similar to the Cross Body Lead in Salsa and the Whip in West Coast Swing. You might even call it fundamental, basic, or "required."
But more than that, Pivots open up a whole new world of possibilities. Starting on Monday, July 6 at 7pm, join this 4-week class to take a look at the bricks and mortar of this move and then add lots of decoration so you can really cut loose with Carolina style and fun!
Participants should already be comfortable with Level 1 Carolina Shag. Previous experience with 8-count swing patterns is also beneficial.
Check out all the details about these classes at http://www.sapphiredance.com/groupclasses.php.
3 - New Group Classes hit the floor in Blacksburg starting July 7 & 8

The July session of group classes at the Blacksburg Community Center is about to start and man, it is really showing the full range of partner dancing! With introductory Level 1 classes offered in Carolina Shag, Waltz, Country Two-Step, Rumba, there is a dance style representing Ballroom, Latin, Swing, and Country Dancing. Diversity is good. Variety is spice. You know what I'm talking about.
If you're very new to partner dancing, feeling hesitant, I'd recommend Waltz or Rumba as great beginner-friendly dances. If you're ambitious, feel free to try any of these classes! (Or all of them if you're really ambitious.)
If you've been on the dance floor a time or two, you could also join one of our Class-By-Requests, both at the Blacksburg Community Center:
L3 Salsa & Merengue, Tuesdays at 8:15, July 7 - 28
L2 West Coast Swing, Wednesdays at 8:00, July 8 - 29
4 - American Made Dance Party, Saturday, July 11
Celebrating the 4th of July this weekend? Well, keep your pride in our country kicking through next weekend as we keep the party going with an Americana themed Dance Party. Shall we say it's "Made in the USA"? What's more American than coming out and dancing with your neighbors and friends at a locally-owned business! Dennis will be teaching a lesson in Country Two-Step to kick off the evening.
Don't forget to bring a snack, your dancing shoes, and those big smiles and hearts that we look forward to seeing!

5 - Sam & Denise Miller - Double Take, Saturday & Sunday, July 18 & 19
Are you doing a double take seeing the Millers in our "upcoming events" again so soon after having them here in April? We are too. Do you love it as much as we do? I thought so. :-D
Sam & Denise are both in high demand with private lessons and two days back in April didn't quite satiate our dance community. You didn't get enough. We didn't get enough. So, they are coming back July 18th and 19th for more dancing: more workshops, more private lessons, and more dance parties. Check the website for the weekend schedule and information on signing up, http://www.sapphiredance.com/Millers.htm
Private lessons are already selling like hot cakes, so don't wait to sign up! You can reserve private lessons and sign up for workshops on the webpage (above), by e-mail, over the phone, or the next time you're in the studio.
If you can't come to the workshops, and don't get a private lesson, don't despair! Sam & Denise will be teaching the predance lesson in East Coast Swing at the Dance Party Saturday night, starting at 8:00. Everyone is welcome, so come catch the Miller Mania and dance the night away Saturday, July 18.

6 - Performing Arts Comes to an end, but Ballroom going strong
You may have heard the rumors, and sad to say, they're true: the Sapphire Performing Arts programs are discontinuing.
The good news is that this will not affect the Ballroom portion of Sapphire Ballroom & Dance Center. Our partner dance programs are still going strong and you can continue to get your Swing, Latin, and Smooth dance fixes here at our studio and in Blacksburg group classes. Here is a letter Linda wrote to her students that we would like to share with you to better understand where it all began and her decision to close.
To Sapphire Performing Arts Students, Parents, future students, and everyone who has supported our fledgeling program over the last two years,

I am exceedingly sad to announce that Sapphire will be discontinuing our performing arts program at this time. Sapphire Ballroom & social programs will continue to be offered in Suite C and at other locations in the area.

I truly believe, with all my heart, that our dance program provided a great learning environment that is welcoming, encouraging, and inclusive. I have been so blessed by the relationships built over the past 2 years. Your children have been a highlight for me, from the shy smile of a 3 year old to the mature eloquence of a 16 year old. The work ethic and love for teaching exhibited by all of our instructors continues to impress me. I have faced challenges, and learned a great deal from the experience as well. In 2013, through prayer, I felt God leading me to start the ASPIRE performing arts program. It felt like a calling as strong as any other I've felt in the past, despite the many obstacles that we faced in getting started. So, for all those reasons, I am exceedingly sad to announce that Sapphire will be discontinuing our performing arts program at this time.

I do hope this news does not discourage you from continuing to dance. While I may not agree with all the practices and teaching philosophies of other studios, I am available to help you decide where to look first. We can meet on an individual basis or in small groups to discuss your personal goals, and find an opportunity that fits your needs. The good news is that there are several choices.

With best wishes,
Linda Stancill, Owner, Artistic Director of Sapphire Dance Center
30 W Main Street, Suite C, Christiansburg, VA 24073 - 540-382-8782
www.SapphireDance.com